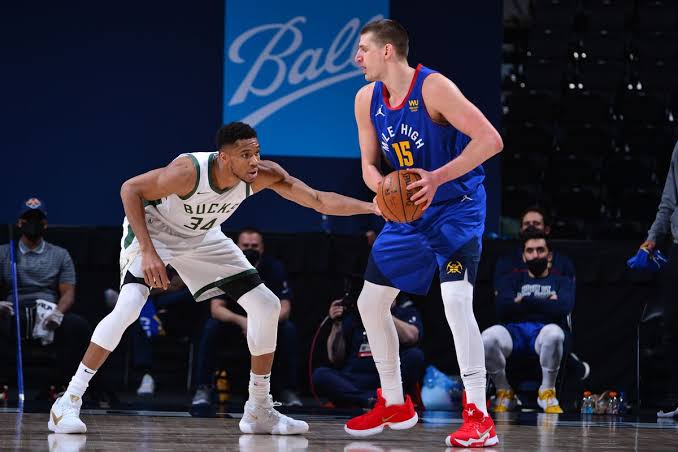 Nikola Jokic of the Denver Nuggets is again making headlines in the NBA in 2022-2023. He has Denver as one of the top teams in the NBA and one of the top teams in the Western Conference. Jokic continues to silence his doubters game in and game out.
Over Christmas Day, he scored 41 points, grabbed 15 rebounds, and recorded 15 assists in a 128-125 win in overtime over the Phoenix Suns. For a center, this is big-time stuff because it is scarce for them to do stuff like this by recording triple-doubles. NBA expert picks think he could win it again this season. Is Nikola Jokic on track to win the MVP for a third straight season?
The Stats Say So
Nikola Jokic has even better stats than in the first two seasons of his NBA MVP campaigns. Currently, he is averaging 25.4 PPG, 11.0 RPG, and 9.4 APG. Jokic is averaging nearly a triple-double a game, which is so hard to do in the NBA. If he averages a triple-double like 26.2 PPG, 12.3 RPG, and 10.3 APG, for example, by the end of the year, Nikola Jokic should win the NBA MVP Award for the third consecutive season. 
It would be a shame for someone else to win the award if he were to average a triple-double and not win it. It is scarce for someone in a season to average it. When Russell Westbrook won the NBA MVP Award in 2016-2017, he averaged a triple-double that season for the Oklahoma City Thunder and led them to the sixth seed in the Western Conference.
There should be no double standard when it comes to Nikola Jokic. Yes, he has won two straight NBA MVP Awards, but if he deserves it again this season, then Jokic should win it once again. He will be in an exciting category if it does happen.
It Hasn't Happened In Quite Some Time 
There have been several times over the past 30 years that have won back-to-back MVPs. Magic Johnson, Michael Jordan, Tim Duncan, Steve Nash, Lebron James twice, four in five years), Stephen Curry, and Giannis Antentokounmpo have won it back-to-back times over the past 30 years.
The last time someone won an NBA MVP three straight seasons was Larry Bird of the Boston Celtics in 1983-1984, 1984-1985, and 1985-1986. That is quite the company to be with. Not even players like Michael Jordan or Lebron James even accomplished that feat as great as they were. Nikola Jokic feels he deserves it for a third consecutive year if he stays healthy and plays at this pace for the Denver Nuggets.
It has felt like an eternity since someone has won the NBA MVP Award three straight times. It will be interesting to see what the voters will decide once the regular season comes to an end this season.
Possible Nikola Jokic Fatigue
It is quite possible that because Nikola Jokic has won back-to-back NBA MVP Awards, some people might be tired of him and not vote for him to win the award this season. Some other potential candidates this season for the award could be: Jayson Tatum of the Boston Celtics, Giannis Antetokounmpo of the Milwaukee Bucks, and Luka Doncic of the Dallas Mavericks.
The Denver Nuggets do not play in a very big market, and he feels like an afterthought superstar in the NBA. Denver wouldn't be anything without him because Jamal Murray and Michael Porter Jr.'s health still seems to be a little issue. Without Jokic, this basketball team would be one of the worst teams in the league because he makes everyone around him better.
His IQ for a big man is one of the best in the business. Nikola Jokic winning it for the third straight season would be something historical in the NBA, and it would solidify his status as a potential first-ballot hall of Famer in the NBA.