Have you ever tried to stream a series on your Mac with the iPad connected in Sidecar? If yes, then you must have noticed that in some cases the image is not visible. problem (reported by Apple World Today) is not new and deals with the question of copyright protection. This is done by initiating playback of a movie from a streaming platform via Safari.
Why ? Netflix, Disney+ or Apple TV+ protect their files by using DRM (Digital Rights Management), i.e. technology intended to prevent the user from copying image and sound and potentially re-broadcasting it without their consent. To do. , This is one reason you can't take a screenshot of a Netflix video on an iPhone or iPad: DRM won't let you do that.
Over the years, another type of security has evolved: hdcp standard (for high-bandwidth digital content protection). When playing content protected by DRM, it will "interrogate" the screen on which it is broadcast to ensure that it is indeed HDCP compatible. If so (on most monitors/TVs), it will understand that this is a "legal" screen and not a device aiming to copy the stream. On the other hand, if non-HDCP equipment is used, the video may be transmitted in poor quality or be simply replaced by a black screen. Most of the larger platforms use these two protections.
This is undoubtedly a problem for Sidecar. user jcoletti explains on apple forums According to him, the Mac sends a video stream to the iPad in a proprietary format that doesn't support HDCP. This is why the problem appears on all platforms: none of the streamed files recognize the iPad, and they all assume it will potentially be used for copying.
Why doesn't Apple integrate the HDCP standard? jcoletti considers several reasons: " Maybe technical limitations with iPad hardware, USB-C/Wi-Fi, HDCP license fees or time constraints ". This bug also penalizes Apple: through the TV application, it is impossible to play Apple TV+ content in a sidecar with an iPad.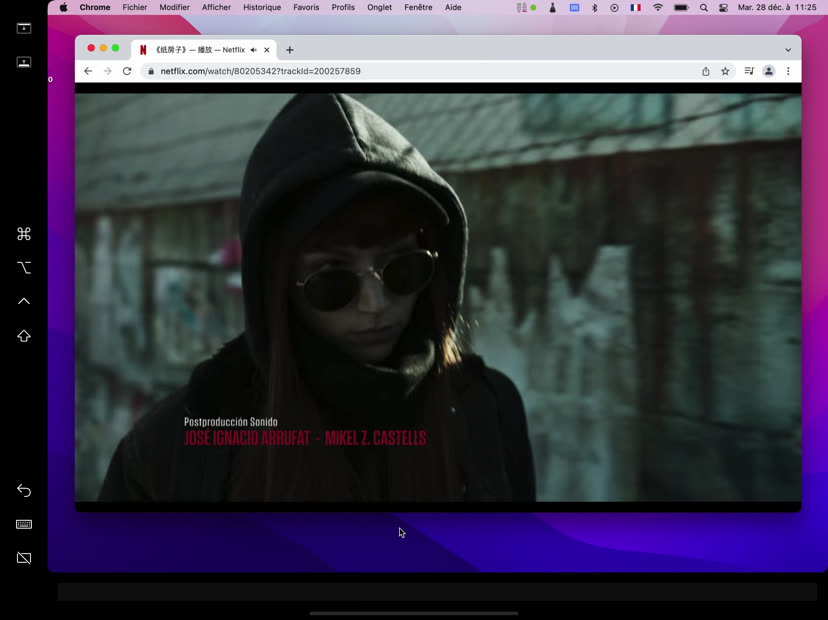 If this problem bothers you regularly, you can use Chrome. The browser actually allows you to play Netflix videos without having to worry with the screen attached to Sidecar. This is apparently due to the fact that Chrome is based on Another Kind of DRM And is less concerned with content security than Safari. Because of this vulnerability, production owners (such as Hollywood Studios) ask the platform to limit the video quality on the browser. That's why Chrome can only stream Netflix series max 720p, unlike Safari which can do the same in 4K.