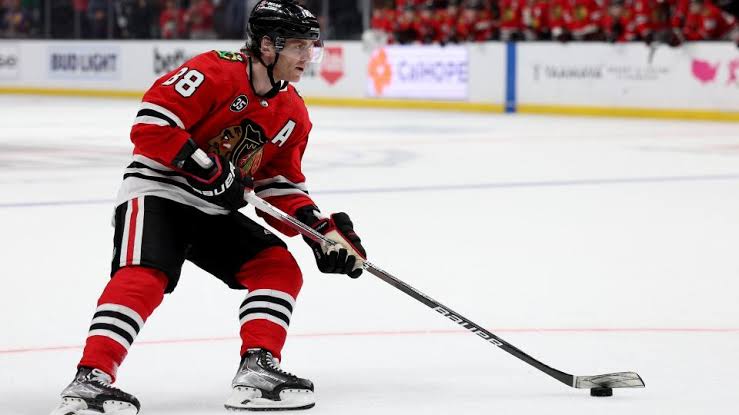 The NHL trade deadline is less than three months away, and Patrick Kane of the Chicago Blackhawks is potentially rumored to be traded at the NHL trade deadline this year. He has an expiring contract with Chicago, and he has a $10.5 million cap hit for teams taking on his contract.
There will have to be some deal in place with the cap salary-wise if teams take it on for the remainder of the season. He is 34 years old. NHL picks today have the Chicago Blackhawks trading away more pieces at the NHL trade deadline this season. Who are some of the teams that can potentially trade for him?
Pittsburgh Penguins
The Pittsburgh Penguins have been linked to acquiring Patrick Kane for quite some time now. They are trying to make one last Stanley Cup title run in the Sidney Crosby-Evgeni Malkin-Kris Letang era. Kane would provide an extra boost to the Top 6, and someone would get moved down to the Bottom 6, it would provide more depth to this hockey team.
Pittsburgh is too reliant on one line with Sidney Crosby, Jake Guentzel, and Rickard Rakell. Jason Zucker or Bryan Rust would get moved down to the third line with the addition of Patrick Kane, and it wouldn't be a bad thing for the Penguins. It would provide another goal scorer on the power play.
The only issue is that Pittsburgh is very tight with the salary cap. They would have to trade players like Kasperi Kapanen and Brian Dumoulin, who combined eat up $7.2 million cap space. They can ask Chicago to keep the other $2.8 million, and then maybe we are talking about a potential trade and adding in another prospect and draft pick in the deal.
New York Rangers 
The New York Rangers have also been linked to Patrick Kane for quite some time. New York needs that star at Madison Square Garden to go along with the likes of Chris Kreider, Mika Zibanejad, and Artemi Panarin. The Rangers have struggled 5-on-5 but have been lethal on the power play once again.
Patrick Kane would improve their 5-on-5 play immediately, and their power play would even become more dangerous for this hockey team. Having Adam Fox on the backend helps this hockey team because he dictates the game for the most part on the blue line.
Kane in a New York Rangers jersey would be a hot hit in town. A lot of fans would like it, and a lot of people would buy it. It could be the one move that puts them over the top in an elite Eastern Conference, with them playing in a very tough division. Chicago would maybe ask for one of their young players like a Kappo Kakko or a Filip Chytil, and New York would have to ask them to take on some salary and give them draft picks and prospects.
Carolina Hurricanes 
This is the one hockey team that can use him. Carolina has all the players, prospects, and picks necessary to make a move for Patrick Kane. The Hurricanes are missing that playoff veteran presence inside the locker room to get them over the top. Kane would be Carolina's game-changer for this franchise trying to win a Stanley Cup title this season.
Sebastian Aho, Andrei Svechnikov, Teuvo Teravainen, and Brady Skjei are some key players for the Carolina Hurricanes. Patrick Kane would make this lineup even more substantial. A player like Jesperi Kotkaniemi, Marty Necas, or Seth Jarvis would have to be one of the pieces dealt because Chicago would probably want an NHL-caliber player from them, along with other prospects and draft picks.
The Carolina Hurricanes would also want the Chicago Blackhawks to retain some of that salary. It would be interesting to see if they would pull the trigger. Carolina should take advantage of their championship window.
Other teams that can make a deal are the New Jersey Devils, New York Islanders, Toronto Maple Leafs, and Los Angeles Kings.