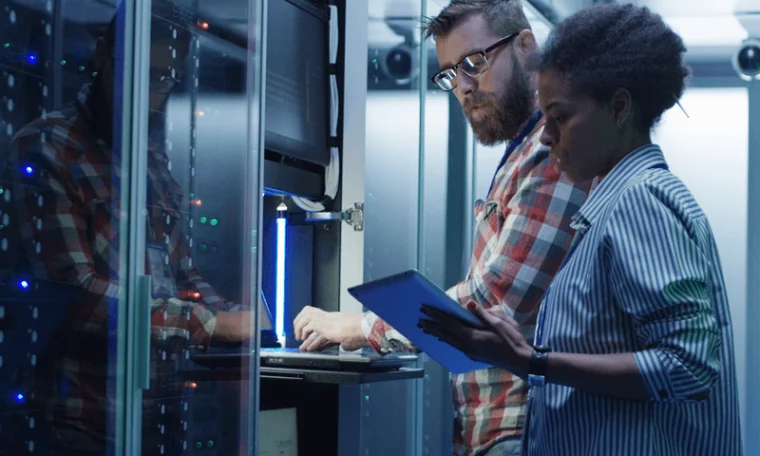 Virtual data rooms (VDRs) have become an essential tool for businesses of all sizes. They enable seamless document storage, sharing, and organization, specifically in critical transactions such as mergers, acquisitions, due diligence, and investments.
With so many VDR providers available on the market, choosing the right VDR for your company's requirements can be a bit tricky.
In this round-up article, we'll provide an overview of the world's top five online data room providers, as well as guide you to pick the best solution for your organization.
1. Citrix ShareFile
Citrix Sharefile is a virtual data room that's suitable for business due diligence processes and transactions.
It keeps your sensitive documents secure and confidential with features like watermarking, e-signing, download tracking, and granular access permissions.
We're also impressed by this software's reporting and analytics capabilities. It provides you with customizable reports that keep you informed throughout the deal.
Citrix Sharefile works on Mac, Windows, iOS, and Android, allowing anyone at your company to access it from their preferred device.
Citrix Sharefile starts at $338/month. You can also request a free demo.
2. iDeals
For lawyers, managers, and investment bankers, the iDeals virtual data room is one of the best available VDR solutions to maintain data security and conduct deals efficiently.
It integrates two-factor authentication and data encryption, ensuring a secure document-sharing environment.
What's more, the VDR supports bulk uploads for efficient file uploading and organization.
With smart filters, you can search for and locate the files you need quickly. iDeals also lets you track activity in different workspaces with the audit trail feature.
Plus, custom reports provide a complete overview of your data room.
iDeals pricing is quote-based, and there are 3 tiers to pick from: Basic, Pro, and Business.
3. Firmex
Firmex is a virtual data room solution that enables businesses to securely conduct financial transactions and manage complex processes and deals.
One of Firmex's most notable features is biometric safeguarding which ensures user authenticity for maximum security.
The VDR also incorporates advanced collaboration features like comments, Q&A, and native messaging, making it easier for all parties involved in the deal to communicate and collaborate.
Pricing is quote-based, and you can request a free trial to get a feel of how Firmex works.
4. Brainloop
Brainloop is one of the best virtual data room providers for businesses of all sizes. It offers a secure way of storing and sharing files with features such as encryption and auto watermarking. Q&A and comments enable seamless collaboration across involved parties, and you can integrate it with your existing infrastructure seamlessly.
Moreover, Brainloop supports bulk uploads, saving a lot of time and effort in uploading and sharing documents. You can access Brainloop from most desktop and mobile platforms.
Brainloop pricing is quote-based, so you need to contact the sales team for more information.
5. Merrill Datasite
One of the key features of Merill Datasite is its robust security measures, which is the primary reason why large corporations and enterprises trust it.
It's one of the best solutions for M&A deals and litigation. With 256-bit SSL encryption, two-factor authentication, and audit logs, Merill's security is second to none.
We also like that Merill Datasite offers round-the-clock customer support in over 20 languages.
You can contact Merrill's sales team for pricing information.
How to choose the right virtual data room provider for your needs
Here are some tips that can help you partner with the most suitable online data room software for your organization.
Security
Security should be at the top of your list when deciding on an electronic data room provider. All providers implement security protocols and authentication measures to protect your company's sensitive information. But to get a sense of how secure a data room really is, check if the provider has any history of breaches or data leaks.
Ease of use
The best data room providers utilize a user-friendly interface that will make it easier for you to get everyone in your company familiar with it, ensuring that you can initiate your deals and transactions as quickly as possible. You also want to make sure that guests and third parties can use the data room without requiring assistance.
Support
Data rooms are sophisticated pieces of software, and as a user, you'll likely encounter issues at some point. If that happens, you should be able to get technical support quickly to avoid disrupting your workflows.
Ideally, you'd want to choose a VDR provider that offers 24/7 technical support through multiple channels. Providers that offer local support are also recommended as this will make communicating with the support team easier.
Integrations
Look for a VDR provider that supports native integrations with the software tools that you already use in your processes. These may include productivity, collaboration, or document management solutions.
Final verdict
Now, it should be easier for you to decide on an online data room provider. We've provided the best data room vendors, but if you're still unsure, we'd recommend testing the data room services yourself through free demos or trials.